The E.J. McKernan Co. History
Over 60 years ago, Ed McKernan started The E.J. McKernan Co. Over the next 8 years, Ed saw an untapped opportunity to find buyers for surplus/overstock bottles, jars, closures, components and equipment. Thus began the Clearing House Division of McKernan Packaging in 1967. Little did we know at the time that McKernan was a pioneer in the "Green" movement!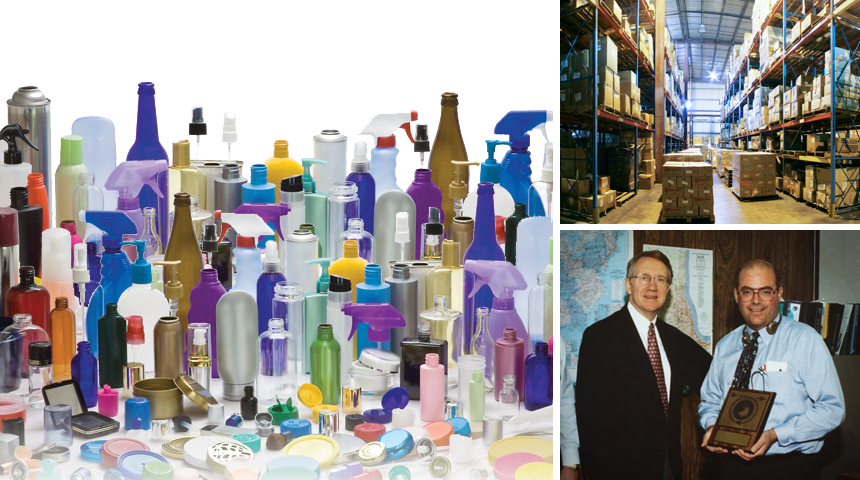 Our Surplus Story
When companies have unused surplus packaging, and no longer have a need or the warehouse space to store it, this is where McKernan steps in. We offer these companies a profitable alternative to recycling, scrapping or dumping. By letting McKernan purchase their surplus packaging, companies enjoy the fastest, most profitable and environmentally responsible way of eliminating surplus/excess packaging from their inventory, as well as saving valuable resources from needlessly clogging up our already overcrowded landfills.
In 1992, McKernan Packaging coined the phrase Precycle®, which means pre-consumer recycling. It is the process of taking these surplus/overstock pre-consumer components and re-purposing them back into the industry. These Precycled components are high quality and are offered at highly discounted prices.
After over 60 years and two generations, the McKernan family has solidly established its extensive network of packaging suppliers, which includes major players such as Colgate-Palmolive, Unilever, Johnson & Johnson, Alberto Culver, and Bristol-Myers-Squibb.
Our broad definition of "excess" includes items usually thought of as outside traditional packaging, such as various cosmetic components, food grade and medical items and so much more. No matter what you're after, check with McKernan. The same is true if you have excess packaging you need to move. Packaging that's excess to one enterprise can be extremely valuable to another. Small manufacturers/marketers, startup entrepreneurs, or established packagers with unconventional packaging requirements often need the packaging that is considered excess by other companies.
Considering packaging's ability to influence purchaser decisions, companies gain the advantage of purchasing packaging from major multinational marketers, who have already invested millions to determine what works best. Remember, buying McKernan is not only "Green," but it is also a great way to save money on all your packaging needs!
What Do We Buy?
McKernan buys everything from bottles, jars, caps and sprayers to lesser known items, such as cosmetic brushes and dosage cups. We buy them from contract packagers, fillers and major manufacturers of cosmetics, household products, pet supplies, pharmaceuticals and other products. All of the packaging components we purchase are top-shelf. There is absolutely nothing wrong with these brand new, unused components. However, for a variety of reasons, the product manufacturer no longer needs them. Instead of adding to a growing corporate waste problem, these companies have decided to Precycle® them back into use. We provide companies with a chance to recoup some of their initial investment by selling their excess packaging inventory, while at the same time expressing environmental responsibility, which is both necessary and great for public relations. The end result is that our customers purchase first-quality packaging components at discounted prices. We sell to companies that need these products and can't or won't pay manufacturers' full list price.
Why Does Surplus Exist?
Surplus/Excess packaging is, and always has been, a fact of life in product manufacturing. It is created by a variety of factors. Sometimes marketing a specific product line requires a change in the packaging's design or color. Sometimes mistakes are made in the packaging ordering process. Sometimes the business simply fails. What results is the availability of millions of pieces of excess packaging. Again, it's top quality but no longer needed by the original product manufacturer.
McKernan Today
For over half a century, McKernan has been in the business of buying and selling surplus packaging. And to date, business is better than ever and continuing to grow. Our business model has proven successful through economic recessions and booms alike. Our attempts at educating businesses to the value of Precycling have paid off, and we are riding a hard-won upward curve. Over the past several years, we have tripled the number of our employees and the size of our warehouses in the Chicago area. All of that growth is, of course, spurred by the most important increase: Our gross sales have more than doubled. Foreign sales are also up by over 20% per year.
McKernan is open weekdays from 5:00 am to 5:00 pm, Pacific Time. Our professional sales staff is quite adept at searching our inventory for exactly what our customers need, in the quantities they require and at the price they can afford. We also service our customers through our monthly catalogs and weekly e-blasts featuring sale items. Our catalogs are also available digitally on this website for added convenience. Call today and talk to a Sales Representative about how we can help you with your packaging needs! 1 (800) 787-7587